Maintaining Vinyl, Painted and Polished Cabinet Doors
To clean Vinyl Doors:
Do not use abrasive, solvent-based or cream cleaners to clean your Premier Cabinet Vinyl Doors. Do not allow hot objects, such as saucepans or irons to come in contact with your Vinyl Doors. Premier Cabinet Vinyl doors are low maintenance and can be easily cleaned using warm soapy water and a soft cloth or sponge, always use a towel to dry the door afterward for cleaning cupboard doors. 
Remove stubborn stains right away with nonacidic cleaner. 
Excessive heat, hot gases, steam, and fumes produced by cooking appliances such as wall ovens, hotplates, and dishwashers, can lead to damage to your Premier cabinet Vinyl Doors and Panels, such as delamination and discoloration. To avoid such occurrences, the following precautions should be taken: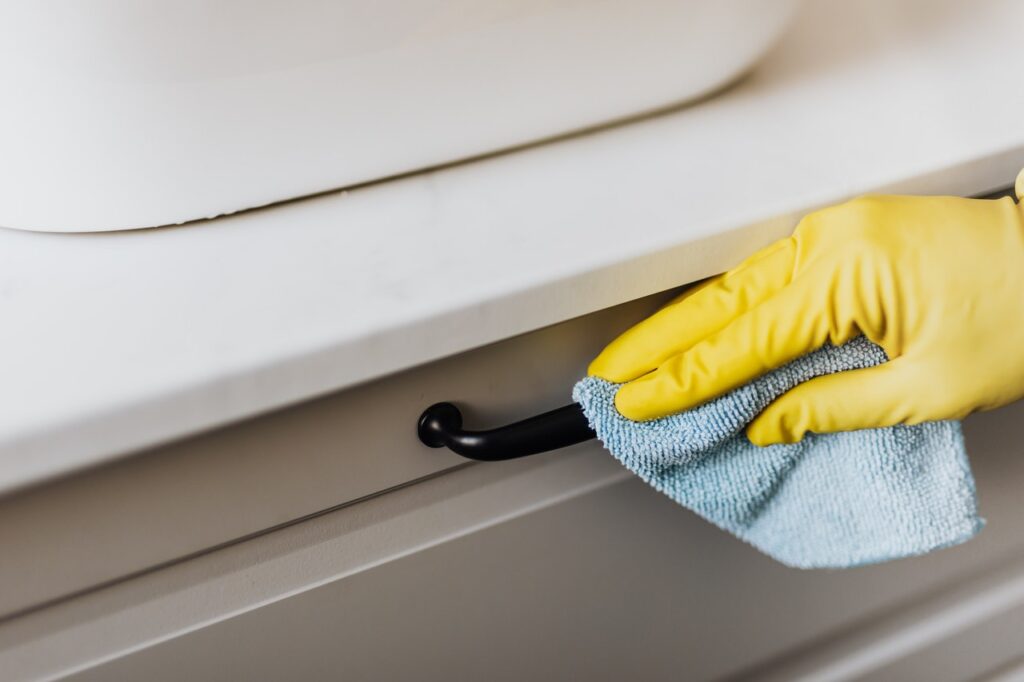 – Regularly check the condition and function of the door seals around wall ovens and dishwashers so as to avoid leakage of heat and fumes. 
– Never allow heat, hot gases, and fumes produced by wall ovens to come into contact with cupboard doors and panels surrounding the oven. It is recommended that (if possible) the wall oven be installed with the rear ducted exhaust. in the case of a front panel exhaust, a heat deflector must be used. 
– You should always operate the range-hood exhaust fan when using your benchtop hot plates. High temperatures and cooking fumes will cause damage to surrounding cupboards and panels unless an efficient exhaust is used. 
To clean Painted or Polished Doors:
Treat spills and smears while they are fresh. Wipe spot with a soft damp cloth (a microfiber cloth is preferred) and dry with a soft towel. Avoid over-wetting cabinets. Clean cupboard doors one small area at a time, using a circular motion.
For stubborn spots, use a mild, paint-safe cleaning solution. Make your own cleaning painted cabinets cleaner with a few drops of dishwashing liquid and a teaspoon of vinegar in a cup of water. Test any solution in a less visible area first.
NEVER USE THESE ON PAINTED OR POLISHED DOORS:
Magic Eraser or similar sponge
Abrasive powder or scrubbing pads or sponges
Cleaners with abrasive particles, harsh detergents or ammonia
Oil soap, spray polishes containing silicone, petroleum products, or wax
Citrus/orange cleaner
Premier Cabinet Doors Warranty
VINYL DOORS:
Five Year Limited Warranty
Premier Cabinet Doors warrants that, under normal use and service Premier Cabinet Doors products shall be free from defects in workmanship and manufacture for the period of five (5) years from the date of sale to the consumer purchaser. In the event that the product does not perform as warranted, the consumer purchasers sole remedy shall be limited to repair or replacement, at manufacturers discretion, of all or any part of the product which is defective with a comparable product at that time, and was purchase by the original consumer purchaser.
This warranty shall not apply to any defects or damages arising from any of the following:
Accidents, abuse or misuse.
Exposure to extreme temperatures. (E.g. flush mount wall ovens: heat deflectors to be installed. Overheads too low over cook top area (must be a minimum of 600mm above the cook top and above the exhaust fan), doors hanging below exhaust fan height.
Extreme Weather events, Fires, Floods, Cyclones, or earthquakes etc…
Improper installation.
Improper Maintenance and cleaning cupboard doors.
General fading and discolouration (exposure to direct sunlight should be avoided);
Alteration or repair by anyone not authorized by Premier Cabinet Doors.
Owner must provide proof of purchase or warranty is void.
Variation in colour, pattern, shade of the material against the sample material, displays and/or printed illustrations.
Warranty only applies to replacement of doors. This DOES NOT include labour costs for installation.
If a colour is discontinued replacement will match the colour as close as possible and this will only apply to affected doors/panels.
To the maximum extent permitted by law, including the Trade Practice Act 1974 (TPA) and/or similar state or territory laws:
A: No other warranties, express or implied, are made, including merchantability, fitness for the particular purchase, discolouration over time; and
B: Not under any circumstances shall Premier Cabinet Doors be liable for any loss or damage arising from the purchase, use, or inability to use this product, or for any special, indirect, incidental, or consequential damages.
No fabricator, installer, dealer, agent or employee of Premier Cabinet Doors has the authority to modify the obligations or limitations of this warranty.
PAINTED DOORS
5 Year Limited Warranty
1. Premier Cabinet Doors warrants to the original purchaser of any Premier Cabinet Doors painted door product for interior residential or commercial use. Premier Cabinet Doors will at its option, repair or replace any Premier painted doors product without charge, if it is defective directly as a result of its manufacture or supply by Premier Cabinet Doors, or the materials used in its manufacture by Premier Cabinet Doors during the first 5 years after initial purchase (proof of purchase will be required). Subject to the conditions and limitations set out in this warranty below, this obligation terminates at the expiration of 5 years from the date of purchase of the product concerned from Premier Cabinet Doors.
2. This warranty does not cover any defect caused by:
a) Any natural occurrence, or any other act or circumstance beyond Premier Cabinet Door's control; or
b) Failure to follow any procedures recommended by Premier Cabinet Doors, at the time of fabrication and installation, or
c) Physical abuse, misuse, accidents, exposure to excessive heat, exposure to excessive moisture, the use of solvents or inappropriate cleaning painted cabinets using products/materials, exposure to chemical products, improper maintenance, normal 'wear and tear', scratches, scuffs, burns, stains, wipe marks on darker colour surfaces; or
d) General fading or discolouration or damage due to direct and indirect light (exposure to direct sunlight should be avoided); or
e) The product being used in applications that are not recommended by Premier Cabinet Doors; or
f) Faulty workmanship by any person other than Premier Cabinet Doors; or
g) Variation in colour, pattern, shade of material against the sample material, display/s and/or printed illustrations; or
h) Incorrect hinge installation and/or adjustment.
This warranty also does not cover:
i) Where the defect is trivial or insubstantial; or
j) Where, as at the date of notification of the defect to Premier Cabinet Doors, the type or colour of the alleged defective product no longer forms part of the Premier Cabinet Doors standard stock range and the person complaining of the defect does not agree to the supply of a replacement which is a close a type or colour match as is possible from Premier Cabinet Doors then prevailing stock range; or
k) Where the defect has been disclosed as a feature or limitation of the Premier painted doors product in any literature published by Premier Cabinet Doors; or
l) Outdoor application.
3. This warranty applies only to Premier painted doors products:
a) Purchased from Premier Cabinet Doors;
b) That has remained installed at the location at which it was first installed after its sale by Premier Cabinet Doors;
c) Which has been installed, maintained, used and protected in the manner recommended by Premier Cabinet Doors,
d) Premier Cabinet Doors has been notified of the defect within seven days of the first person to become aware of it.
5. This warranty does not cover any other product used or installed in connection with the Premier painted doors product.
7. Any inquiries regarding this warranty should be sent to Premier Cabinet Doors Warranties, Premier Cabinet Doors 17 Byron Road Armadale WA 6112. Or Emailed to sales@premiercabinetdoors.com.au. Inquiries can also be made by calling (08) 9399 6029.
8. To claim this warranty, please send the following written details to the address set out above:
• Your name, address and telephone number
• Proof of purchase
• The Job Name
• Description of how the Premier Cabinet Doors painted doors product is defective and when you found out that it was defective. Please also provide any photographs taken of the defect(s). After we receive your written/emailed claim, we will contact you to discuss.
Glass Products:
– Factory Made defects must be addressed within 24 hrs of receiving the product for it to be under warranty.